Zeta Collet Nut System
ZETA "Das Original" – Do not accept anything less than the original Zeta system!
The New Zeta system provides a lot of unique and unexpected possibilities that never have been offered before by other popular collet clamping systems. The New Zeta system is completely exchangeable with all spindles in single situations, aggregates, multi-spindle heads, and Swiss turn lathes which use ER-DIN6499 or OZ-DIN6388 collet systems.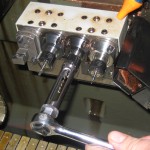 Using the Zeta system for easy installation.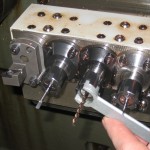 Installing standard mini nut the difficult way…
Watch the Zeta demo video on YouTube Zeta Video Download our current Zeta Woodline Collet Nut flyer PDF Flyer