T-Tool USA is the master distributor of the Zeta Collet Nut System developed and patented by Zollmann GmbH of Germany. This unique collet system provides a better and safer way of clamping your tooling especially where space is at a premium. Many multi-spindle CNC machines pose a danger to the machine operator by way of having to clamp multiple tools in a tight space, thereby increasing the chance of injury. The unique operating tools of the Zeta system eliminate such possibilities and gives the operator several options for clamping tools. In the picture below you will see an example of a situation where it is tedious to use a spanner wrench.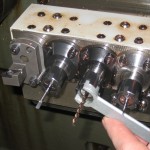 Have a look here below where with the unique Zeta profile and operating tools we take your hands away from the sharp tooling.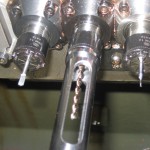 The Zeta Collet nuts are 100% compatible with both DIN6499 and DIN6388 collet nut systems and are available in Standard ER type, ER Mini type, and OZ Type nuts. We also offer sealing nut versions of the Zeta nut for either Regofix or Zollmann type sealing discs. For more information you can download the Zeta catalog or contact us about your application.